Day 11: I have a secret to share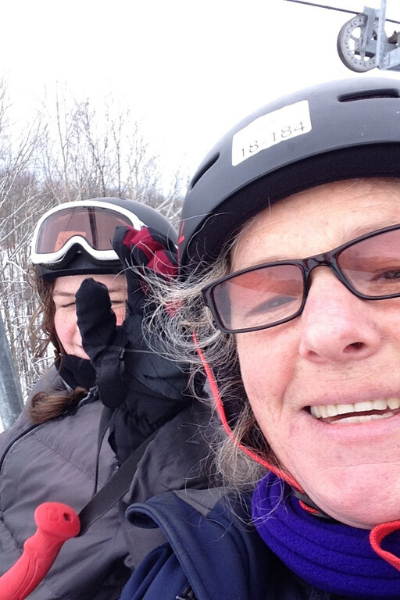 Good morning Challengers, welcome to day 11. Yesterday was another great homeschool ski day at Snow Valley and it was a special day because we brought Alex and Robyn with us. Alex took to skiing like we knew he would, saying after a couple practice runs, "enough of this, where's the real hills." And then we didn't see him for 3 hours. Sadly Robyn got motion sick on the lift and decided to spend the day in the chalet, which isn't the worst place to be, with the lovely fireplaces and rosey-cheeked skiiers, not to mention really yummy fries.
But. I have a secret to confess. Skiing-it's not my favourite sport. I like it...enough. It includes a lot of my favourite things: the outdoors, snow, cold weather, friends and family. I don't know why I don't love it, but I don't have that-I have to do this to be whole feeling that I have with skating and hockey. I get the sense that a lot of people who ski feel that way, they arrange their lives around skiing. 
I guess the point of my confession is, if you have been following me on social media, it may seem like I do a lot of skiing, but while I like skiing and I'm glad I know how, it's really for Bobby that I go, and sometimes winter activities don't have to be something you love to do, but something you do while keeping someone you love company.
 Although the views are spectacular...way better than what you get at the ice rink.
Today's photo prompt, a nice view.
Until tomorrow, have an outdoorsy day.
Anna
Leave a comment
Comments will be approved before showing up.