Day Five: enjoying the outdoors while I can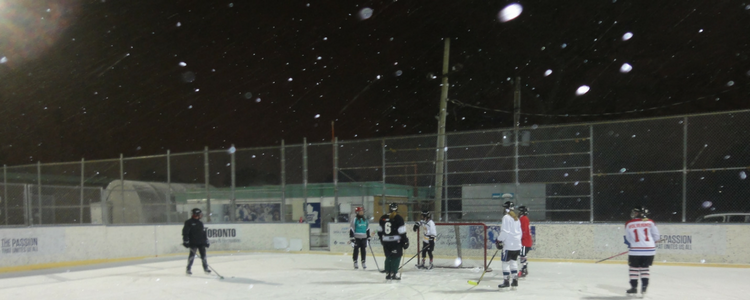 Good morning Challengers. 
I posted a picture of my mittens on our Instagram, they're a lovely pair of hand knit mittens my friend Nora knit for me for Christmas. But then later in the evening when I was at outdoors women's shinny at High Park, I looked down at my hands in a pair of hockey gloves and thought, "These are my mittens. This is my uniform for winter." 
This winter I have been blessed with a time abundance that I can't remember having since before I had children, and I'm using a lot of it to play hockey. It's a gift to have the freedom to do what you love and I'm grateful everytime I lace up. 
Sadly, I had the realization this afternoon, that there's only four more weeks of outdoor ice! And, only four or five more ski dates for Bobby. 
So even though the winter seems long, if you don't get out there and enjoy it, spring will be on us before you know it. 
In the meantime though, let's get out and get some fresh air, appreciate that the weather so far this winter hasn't been too too terrible, and do things that before we know it will be too late to do.
A big one for us this year will be tobogganing. That is an activity I sometimes put off thinking-next snowfall, or tomorrow and then the snow melts overnight. Bobby loves tobogganing so I'm commiting here in front of all of you, Challengers, that next snowfall, I'll take Bobby out. Likely to Swansea, but if you know a great hill, let me know.
Until tomorrow, 
have an outdoorsy day.
Anna
Today's photo prompt let's see some colour, these grey skies are starting to get me down..
Leave a comment
Comments will be approved before showing up.