Day 14: Happy Valentine's Day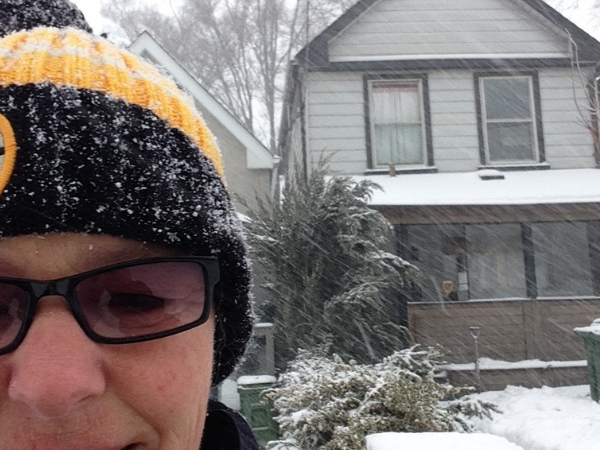 Good morning Challengers. Yesterday was my dream weather day. Not too cold, tons of snow, didn't have to drive anywhere further than Bloor and Brock. And lastly several times I looked out my front window to near blizzard conditions. 
The chink in the perfect day armour was twice I had to push people out of the parking space in front of our house. One was at 8:00 am, (it was Rob) and later our letter carrier got the mail truck stuck. I tried and tried to push him out to no avail, when a neighbour drove by and saw us struggling and stopped to help. Yay to Neighbours. The cute part was, after a couple pushes the truck was free, the letter carrier drove off with a thank you and a wave, and I heard the Neighbour say under his breath, "that felt good." I wasn't sure if he meant the physicality, or the communitality of it. (and yes I made up that word). The good part of that is once your out you may as well shovel, take out the garbage, check on the neighbours....and look at that our done your challenge for the day.
Until tomorrow-have an outdoorsy day.
A
PS Today's photo challenge: Well it is valentine's day, so something red then.
PSS
You can't really see how hard it's snowing in this picture but it was awesome!
Leave a comment
Comments will be approved before showing up.