Day 20: Getting out the door-to get outdoors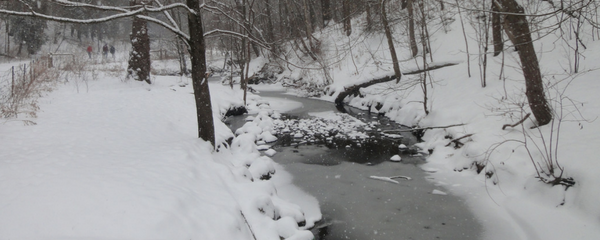 Challengers! We are 2/3 of the way through our 30 day, outdoors everyday challenge!
How have you been doing so far? I am finding some parts of the challenge easier this year, and some parts harder. I am really enjoying the weather (at least up until today) and that has been encouraging. I found all the beautiful snowy days we had the early part of this month really easy to get outdoors in. Alternatively, I find days when I don't have a scheduled activity, I have found it difficult to be motivated to go out, but once I go out, I don't want to go in. (sound familiar? yeah I learned it from my toddlers).
Renee Tougas from FIMBY once wrote a great blog post about getting out the door is the hardest part. You can read it here. I found it reassuring to find others with my same struggle. I remember my sister telling me once, "we couldn't even get out the door to go to church".  My sister, the almost always calm, mostly organized, late but gets there sister, said that. That  I found reassuring. 
Now I can't really blame my not getting any place on my kids anymore. Sure sometimes Bobby is reluctant, but I can always go without him. It's not like the olden days where I had to wrestle four kids, a stroller, a diaper bag, and 3 snowsuits, to go to the store! Now I just have to put my shells over my pjs and get goin'. I think I'll blame it on homescholing. Yeah, that sounds good, I struggle to get outdoors sometimes, because I don't have any kids to walk to school. 
Well,  that is probably my only complaint about homeschool, so I can live with it. And it is balanced by the days where we spend almost our whole day outdoors.
I know yesterday I said I would return to our regularly scheduled posts today, and really this reads like a rambling mess to me, so maybe tomorrow I will return to less wandering ramblings.
Until tomorrow
have an outdoorsy day
PS Today's photo challenge-a song bird-I know they're around, they woke me up this morning.
PSS here's a pic of Thom right after he scored his goal...'cause I'm a mom, and I have a blog-so I'm going to brag!
Leave a comment
Comments will be approved before showing up.