How I get my butt outside when I don't want to go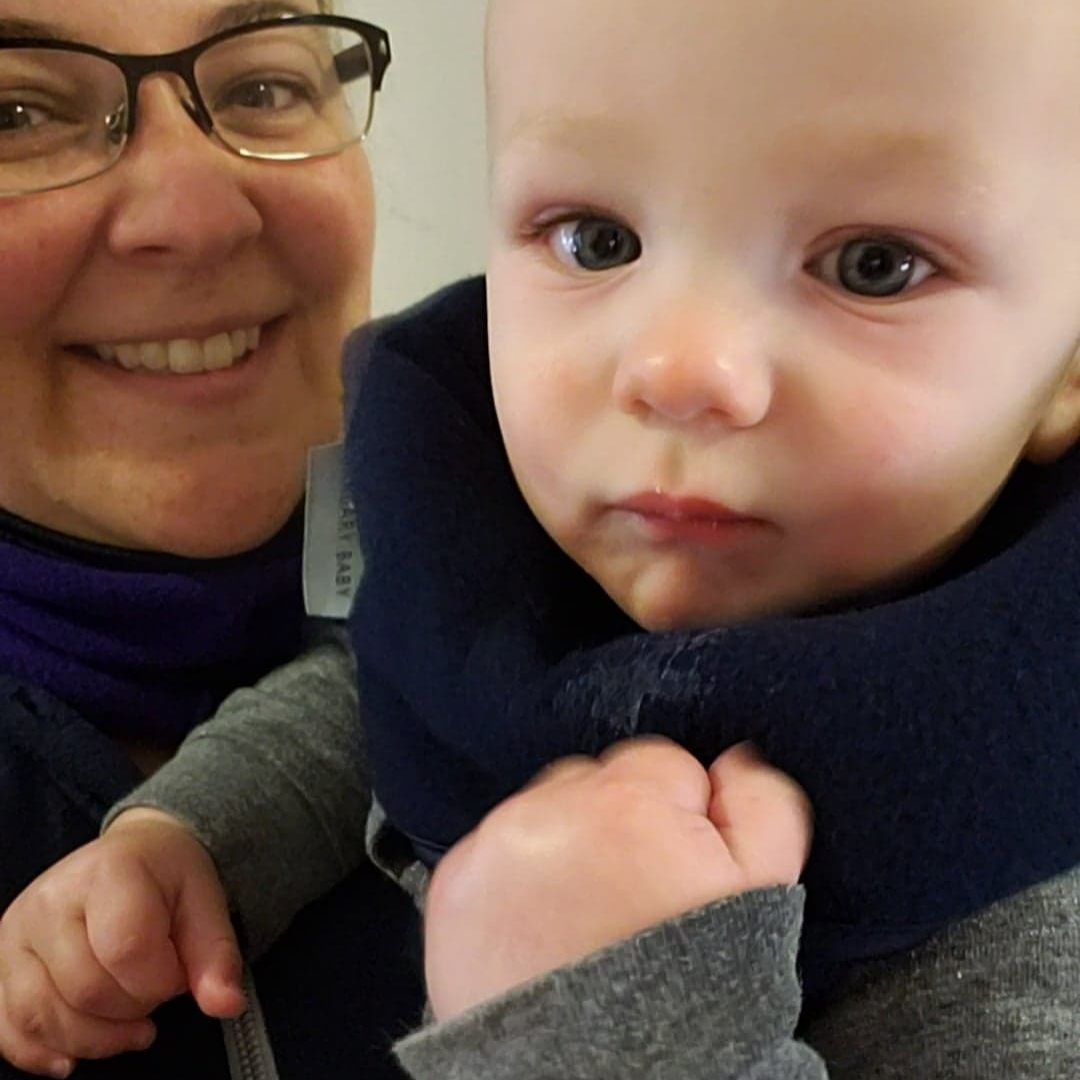 I had to laugh at the pictures Kiera sent me for this post this month. Baby Hayden seems to be saying, "Hmmm, outdoors huh?" then, "Okay, I'll try it." and then finishes it off with a very cheeky..."Haha, I actually love the outdoors." But truth, getting outdoors can be a lot of work bundling up yourself and baby. This month Kiera keeps it real with both the struggle and what she does to stay motivated because she knows getting outdoors is good for both of them.
 Getting outdoors with baby
I love walking and going outside in the spring, summer and fall but the winter is not my favourite. I know how important it is for me and baby Hayden to get outside everyday, not only for some much needed exercise, but for my mental heath as well. I wrote about this before but to recap, heading outside helps me sleep better and it can pull me out of the funk of a tough day. I also know the many benefits of taking kids outside. But some days, especially cold, snowy days, I just don't want to go! So, this is how I convince myself to make it outside everyday, or at least mostly everyday.
1. Set a Small Goal
This is the one that works the best for me. Maybe it's a throw back to my childhood, my mother used to tell us to walk to the 'big tree'. This was a short walk up the road, we could even see it from our house. Or maybe it's just a way to trick my brain into getting it over and done with. I don't know but it seems to work.
My small goal is almost always a walk around the block, this is a quick and easy 15-minute stroll. Some days I do that and go home and am happy to have made it outside. Other days I decide since I'm already outside (the hard part is over) I might as well keep going.
2. Grab a Buddy
Having someone to talk to makes the time more enjoyable. A buddy can also keep you accountable to get moving.


3. Walk with a Purpose
Having a reason to be outside seems to help motivate me too. I have a dog and he needs to be walked or else I get very sad puppy eyes staring me down all day long. I also love to park down the street and walk to the library or store or even just walking to get the mail. Crossing something off my to-do list while getting outside makes me feel very accomplished and that makes it somehow easier to do.
4. Dress Appropriately
Honestly, I often fail at this one, but last winter I finally broke down and bought some new snow pants. In our house, on weekends we have pajama days, and in the past my excuse for not going outside was that I did not want to get dressed, now I can simply throw them over my pj pants and go outside in the cold. I feel like this will make those winter walks way much more enjoyable. Today was the first day it was cold enough that Hayden got to wear all his January Baby Gear. I know he was incredibly warm and protected from the elements with his Hat, Smittens and Neck Warmer. We even wore matching neck warmers out today!
5. If all Else Fails, I Bribe Myself with a Treat When I get home.
Yes this is silly, but sometimes you gotta do what you gotta do. If I really don't want to go, I'll tell myself when I get home I can have a hot chocolate or apple cider to warm up. Or maybe it's watching an episode of my favourite show. Something that makes putting on all the winter gear (even when baby is fussing and wrestling me out of it) worth it.
 You can find my favourite muffin recipe in this blog post.
I hope you have been following along with the November Challenge, if you missed it, it's never to late to join! You can find more information here.
Hayden and I have loved the burst of warm weather but as they would say in Game of Thrones, "winter is coming…" Make sure you are prepared!